Market Leading 49% Attenuation Rate
Heat attenuation is the reduction of heat intensity through a medium, such as a mesh screen.
Our heat attenuation screens are designed to protect window openings that are less than 3m from a property boundary or within 6m of another building in the same property. The Flame Guard M's purpose is to reduce any radiant heat transmitted from one area to another, helping to prevent the spread of fire between buildings.
FLAME GUARD M (Mesh) Heat Attenuation Screen
Specially developed for Fire Engineers and Architects to be used in lieu of Deemed-to-Satisfy systems, this Heat Attenuation Screen can also provide security and fall prevention.  Our Flame Guard M system consists of a perimeter aluminium frame which is fixed to the perimeter of the window opening using a continuous angle, or directly fixed to the wall. The mesh consists of a 0.8 mm thick woven stainless steel, which is coated black to reduce the reflection of light. The free area of the mesh is 49%.
BENEFITS
Available with powder coated perimeter frame to match any colour in the Dulux Duralloy range
May be retrofit over any style of existing window
Minimal side wall clearance/usage requirements
Constructed from architectural grade aluminium frame and high tensile 316 stainless steel mesh.
Highly corrosion resistant and exceptionally strong
0.8 mm thick woven stainless steel mesh, coated black to reduce light reflection
Exceeds all relevant Australian and industry standards
Custom built to suit each project.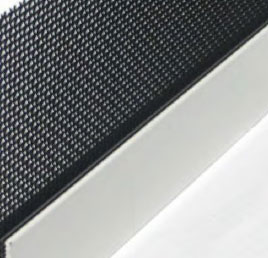 Call or email us for a competitive quote today